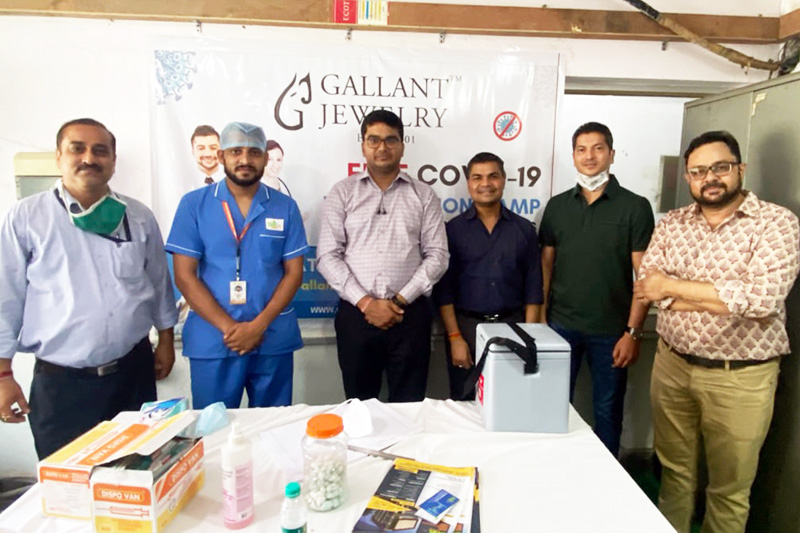 After the fear and melancholia imbibed world of Covid-19, the world seems to embrace optimism and moving again towards a normal life with mass-vaccination. Gallant Jewelry being a responsible manufacturer proactively stepped up to take care of its employees and to contribute further in re-building India's economy during this world's most devastating pandemic. As we all have dreamt towards a 'Life without Covid' and with new variants occurring now and then, it is very crucial to make our employees feel safe and to make them aware of the importance of vaccination so that we all can contribute towards a safer and healthier future. We followed a step-by-step process to make all our employees feel safe and confident in returning to the workplace with absolutely no fear and uncertainty regarding their health.
---
Understanding Employees attitudes and beliefs about Vaccination:
Before initiating our mission of protecting lives, it was crucial in understanding the mindset of our employees and workforce towards vaccination. Thus, we conducted a thorough survey among our employees and found that some employees showed a positive attitude towards being vaccinated but still many were not interested in getting vaccinated and were apprehensive about the side effects of the vaccine.
Building Awareness and Trust among employees For Vaccination:
After understanding our employees' dilemma and concern about the covid vaccination, we started an awareness campaign among our employees about the health benefits and safety from getting vaccinated and imbibed in them the confidence to trust the medical sciences to win over this pandemic together.
Clear communication and guidance on 'How to get Vaccinated':
With the help of local public health agencies, we could communicate and guide our workforce on 'How to get Vaccinated' and the precautions to be taken before and after getting vaccinated such as maintaining social distance and wearing a mask at the vaccination camp. And, making the employees mentally aware of the post–vaccine symptoms like arm soreness, fever, headaches and body aches.
Organizing vaccination drives:
Covid vaccination drive was organised in five phases to get our entire workforce safely vaccinated with the help of our HR department, senior officials' motivation and support of local public hospitals. The successful completion of the covid vaccination camp helped us to make our employees feel safer and healthier and which led us to restart the work with full efficiency at our workplaces.
Offering Paid time recovery off:
We understood the importance of providing and supporting our employees throughout the phases of covid vaccination. Post-vaccination, we offered paid time off for all the employees who got vaccinated to make sure they have an ample amount of time to recover and be free of work stress and focus solely on their health recovery.
---
While so much has been done towards making sure that we all start living a life without Covid, the role of the employers is also very crucial to not only provide employees with a safe working environment but also making sure that they could come to the workspace with utmost trust and secured mind that their health is already taken care.